Restoration
November 30, 2000 Unlike the Presidential election, the Cherokee project is moving along unambiguously. Swinging, hanging, and dimpled bits are sanded away – what could be more tangible and certain than restoring a beautiful wooden object? Like the election, however, boat work requires patience and does not happen overnight. The interior and exterior layers of paint are almost gone, a sort of archaeological process that reveals layer upon layer of history. Leonard has finished the starboard exterior that gets the morning sun, and is working on the "dark" side of the boat. Sanding, sanding, sanding, sanding…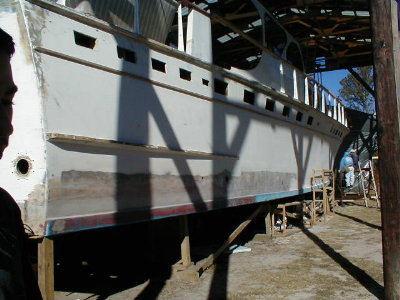 Sunny Side of the Boat
While winterizing the boat shed with plastic, we had the opportunity to climb high and get some aerial photographs. The raised and expanded shop makes for a spacious and efficient workspace. "This is no longer a boat shed," observed Tom. "It's a facility."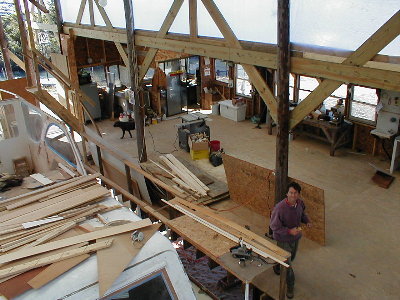 Aerial View of the Facility
Robbin continues sanding and grinding the aft bunk room, as well as the stairs and hallway. The mahogany trim is taped for sanding. The engine room is getting prepared for sandblasting. John is getting fuel tank measurements so that the final drawings can be completed for the tank manufacturer.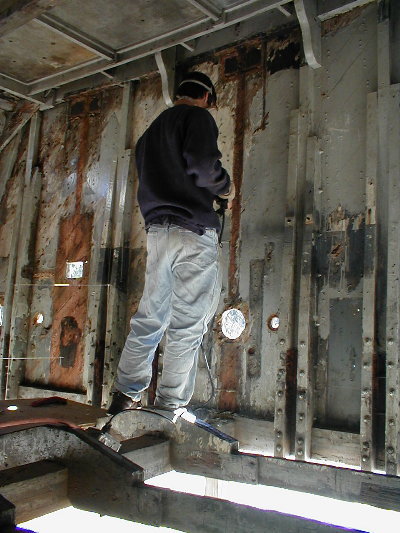 James Jr. Preparing the Engine Room for Sandblasting
Our mascot Casey got a little disturbed about the rot found in the shear clamp of Cherokee's port side, but Bryan patted him on the head and said, "don't worry, we'll take care of that." John, after removing the toe rails, cut away the additional rot in the shear clamp and deck, and made patterns for the additional pieces. Meanwhile, Jeanette is sanding the toe rails.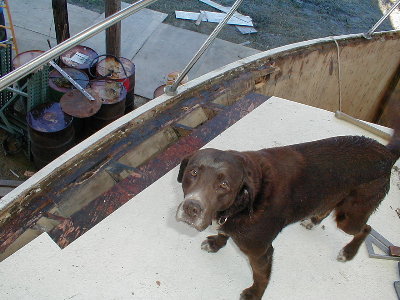 Casey Inspecting the Shear Clamp
The fuel tanks will be manufactured locally, by Hancock and Grandsons of Straits. The Hancocks are a long-established Harkers Island family that was instrumental in helping the Mormon church thrive in a community that, one hundred years ago, was hostile to the religion. The founder of Hancock and Grandsons welding, Michael Hancock, died a few years ago in a car accident. The business carries on thanks to his family. There are a surprising number of small businesses Down East, yet undaunted by the explosion of chain stores in the western part of the county. The ground is broken for a Super Walmart in Morehead City, which will offer everything from oil changes to groceries and eyeglasses. "It's cheaper to get it there" has become the mantra, but at what social cost to all the local proprietors who are part of the fabric of small towns? Signing off for now, Barbara "Fish Doctor" Blake