Restoration
November 15, 2002
  
The toasty fall days are giving way to cool rains and long shadows. The Cherokee crew has already cranked the woodstove a time or two, only to show up in short sleeves the next day in the fickle weather. Jeanette's been working on the running lights, sanding and polishing the original Huckins pieces.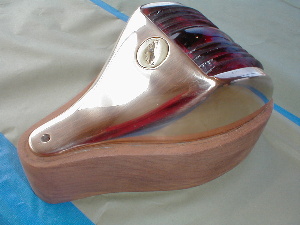 Running Light, Restored and Ready
Chris built mahagony bookshelves for the aft guest stateroom, and Bill, Kerry and Jeremy have sanded them and applied beaucoup layers of varnish. Note the Popular Science magazine on the shelf, published in 1948 – same year Cherokee was built.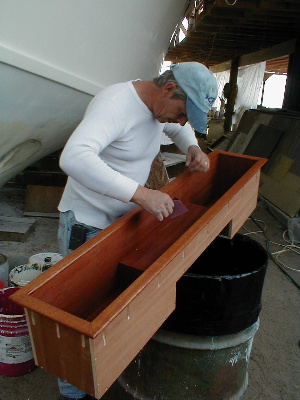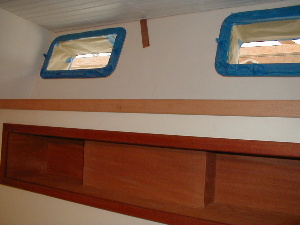 Mahagony Plywood Bookshelf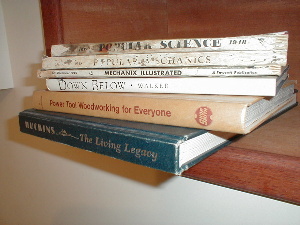 Reading Material
Below left is the mahagony countertop that Tom Parker built for the bar, temporarily fitted in place on the right. This is located in the aft starboard corner of the pilothouse. Incorporated in the wetbar are a refrigerator, icemaker, storage cabinet, and a structural aluminum member that will help in the support of the hardtop.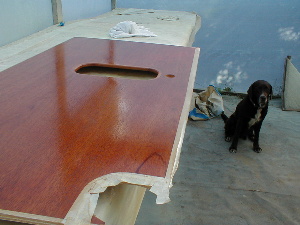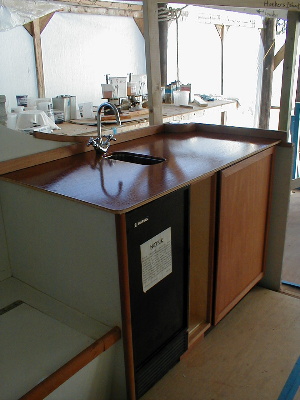 Wet Bar
Leonard is tabbing in the hardtop to the windshield. Six layers of glass tape were placed inside and outside creating two continuous fiberglass structural angles. This helps stiffen and tie together the windshield and pilothouse sides, as well as creating a six-inch wide gluing surface that the hardtop sits on.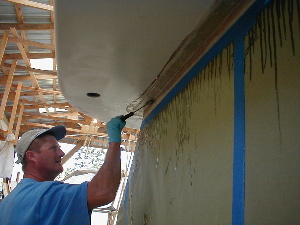 Tabbing in the Hardtop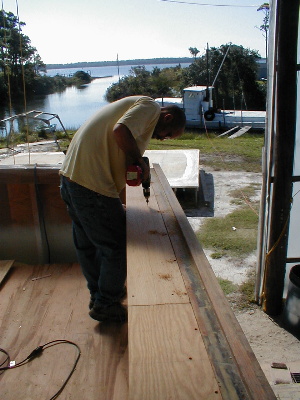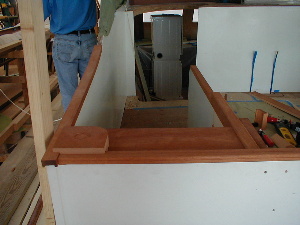 Aft Work
Above, Chris is building a substrate out of 3/4 inch plywood for the teak covering boards. The boards will be glued to this surface, allowing the elimination of finger beams and leaving space to store a boat hook or gaff below. To the right, pictured in the aft port corner of the pilothouse, is a mahogony piece that covers the aluminum structure that the hardtop support will sit on. This will be a two-inch aluminum pipe that will take the load off the large amount of glass in the rear of the pilothouse. Below, Tom's gluing together air conditioning duct out of Divinycell. This is part of the heating and a.c. system in the master stateroom.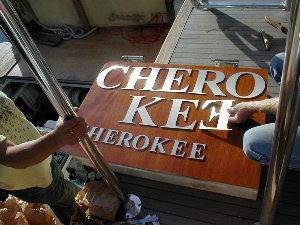 Tom Putting in Duct Time
FishDoc had a chance to set a spot net with Milton Styron the other evening. "This might be the last spot set of the season," he predicted. "Then I'll rig for mullet." It had been a bonanza season, with plentiful shrimp and fish – but low market prices and high fuel costs kept fishermen on the edge as usual. We rode his skiff along Davis Shore until we found his favorite spot, an underwater ridge he calls "a spot highway." He set an anchor, and nudged the skiff into gear as the net played out in the still Core Sound waters. We made a long horseshoe shape, then zig-zagged about as Milton steered from a rig of ropes that enabled him to control the boat from the stern – dangerous work that would send a novice overboard! Once the net was set, we sped toward the harbor in the failing light. He'd be up at 5:00 to fish it the next morning. "I'm seventy three years old," the fisherman remarked. "This might be my last spot set ever!" As he eased the skiff into the cut, he added, "I hope I'm setting for spot when I'm eighty five." Signing off for now, Barbara "Fish Doctor" Blake