Restoration
October 30, 2000 It's been a spooktacular week at the Cherokee site. It started with a good steam cleaning of the engine room, thanks to the generosity of Beaufort Fisheries menhaden plant, where we borrowed the ginny ("We don't rent things," growled owner Jule Wheatly, "We lend them.") Leonard "Glad to be Aboard" Yeomans started work this week, and has already removed half of the top layer of oil-based paint that had been brushed on by the previous owner. He started out with a sander, but found that the soft paint gummed up the disk. He switched to razor blades, which worked faster and more efficiently because of the hard substrate beneath the softer paint. It was like removing paint from a pane of glass. Getting the paint off one side cost him ten blades and $5.00.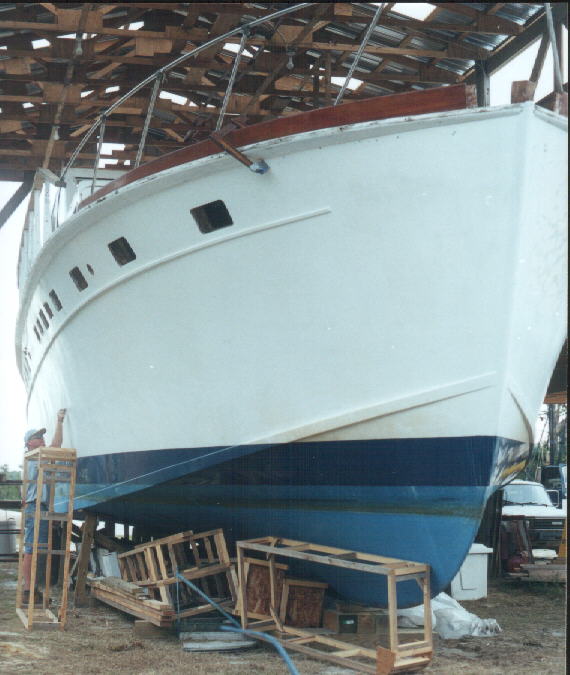 Leonard Removing Paint from Starboard Side
The first pieces of new white oak, the same wood as the original framing, were cut and fit in the rope locker. The deeper the crew digs, the more deterioration is found where the planking meets the stem. Wood removal is done with a combination of skilsaw, router, and chainsaw. Plunging with the tip of the chainsaw has been the most effective way to reach deep into the cavity between the stem and hull planking. The stem will be repaired by using dutchmans fit in the smaller rot areas to bring the stem back up to its original dimensions, and then will be sistered on either side with white oak. All these wooden components will be glued in place with West System Epoxy Resin and mechanically fastened as well.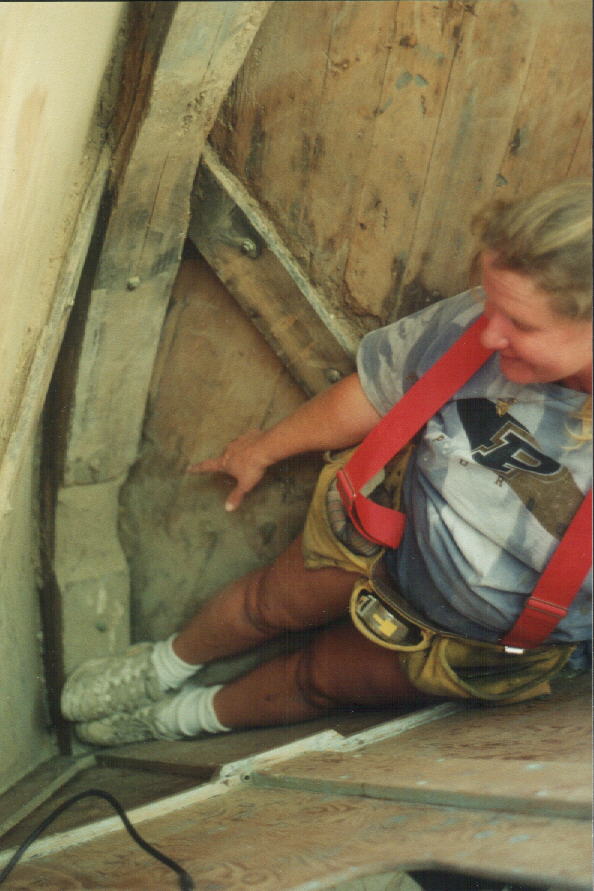 Robbin Pointing Out Stem Cuts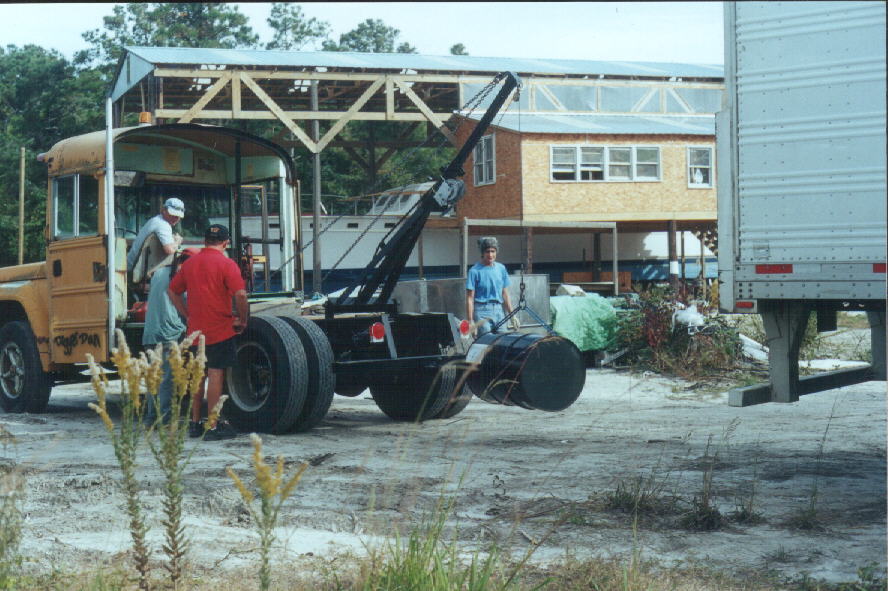 Crew Unloading Epoxy with Boom Truck
The steam ginny removed much of the old oil in the engine room, but Bryan determined that the bottom planking was too oil soaked, and contained too many hull permeations, to make effective repair. The crew removed twenty feet of the planking in the stern of the boat. This will be replaced with marine plywood glued with epoxy to make a stiffer area for engines and jet drives.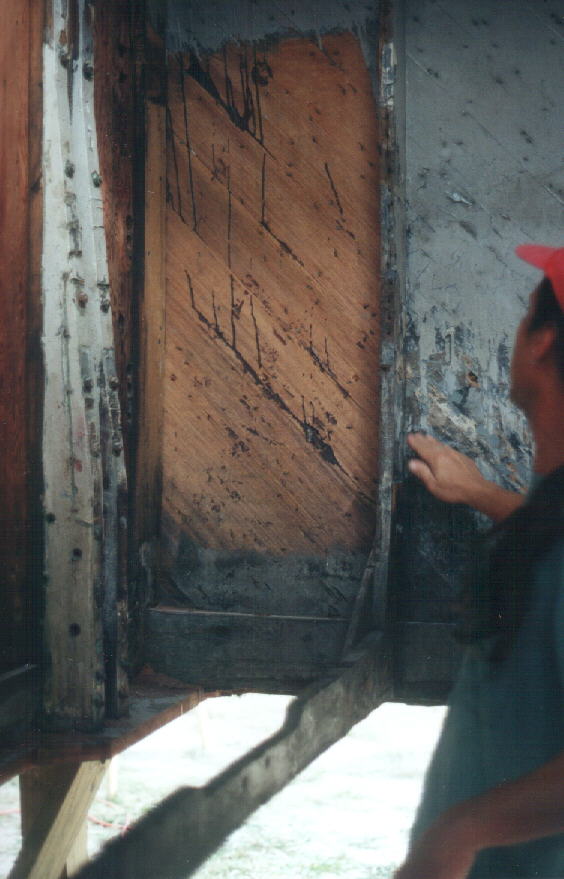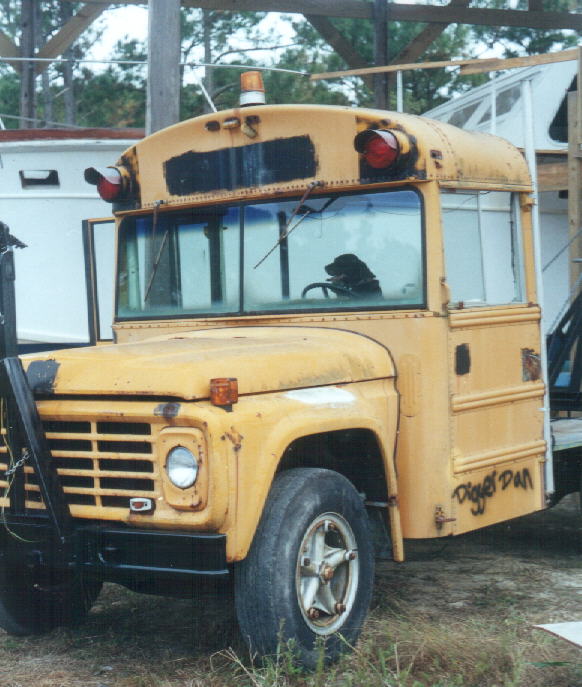 Steam-Cleaned Area over Removed Planking; Casey at the Boom Truck Wheel
The WebBoat Crew got an added bonus when Leonard came aboard – his custom "Boom Truck". A boom truck is a jury-rigged contraption that Down East fishermen invented to lift heavy nets, motors, etc. in and out of their boats. Most boom trucks are pick-ups with tow-truck style booms welded onto the bed. Every truck is different, and they're all funky – Leonard's is fashioned from an old school bus. These "Mad Max" vehicles, celebrated every February at Cedar Island's Boom Truck Parade, embody the creative, can-do spirit of fishermen and Carteret County "proggers" – people who do whatever they need to do, with whatever materials wash ashore or are otherwise salvaged, to get the job done. This ingenuity is present in the Cherokee project, but fortunately the crew doesn't have to scavenge the shore for materials. Signing off for now, Barbara "Fish Doctor" Blake