Restoration
25 September 2000 Like an Amish barn-raising, complete with prayers and lack of telephone, the Webboat crew managed to erect a roof over the Huckins between mullet blows and tropical storms. The stage is set: a sturdy pole building, running water, electricity, and a deluxe outhouse. Even the telephone is back in order. But what about the boat???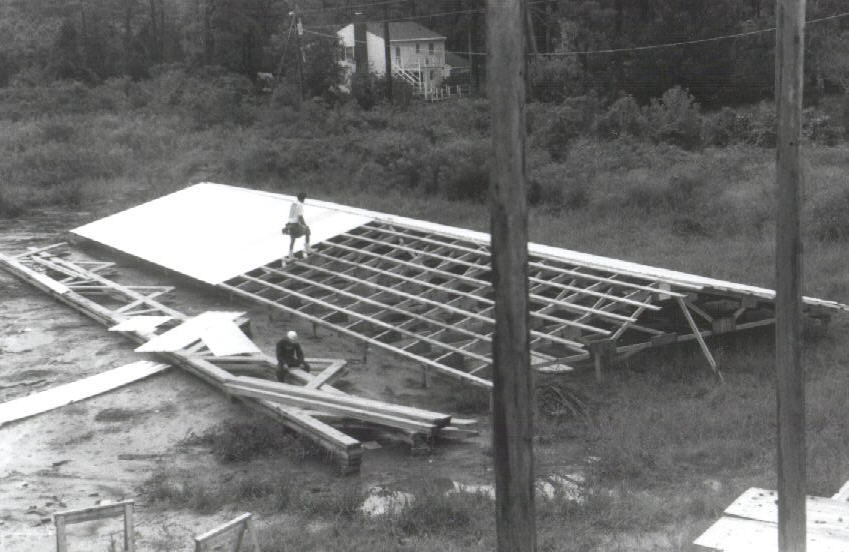 Building the Roof from the Ground Up
The Cherokee, a 64′ foot Huckins, is getting worked on by a first class crew. Project leader Bryan "Fashion Statement" Blake has hired John "Culture Shock" Stein, who recently moved to Down East Carteret County from Washington,D.C. Tom "Gentleman Farmer" Kirmeyer, Robbin "No Problem" Knudsen, and Jeanette "I come with a Refrigerator" Hoxie. And the boat?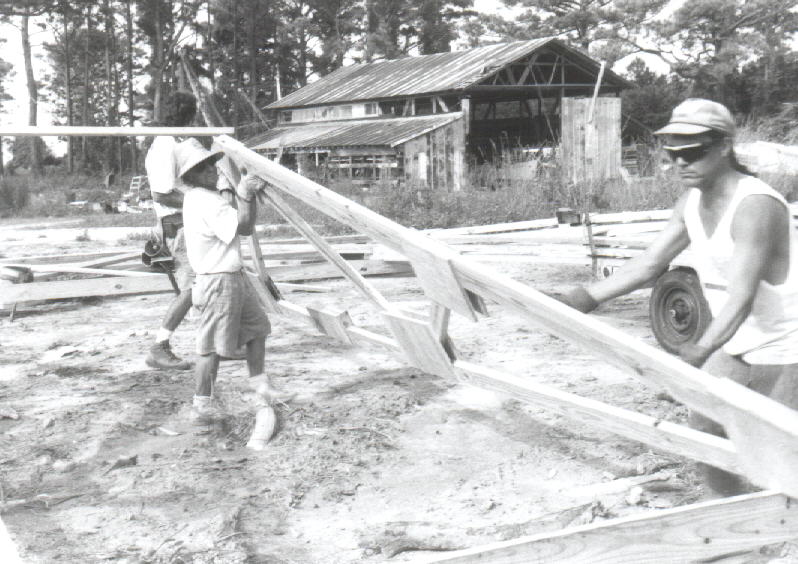 John, Tom, and Bryan Lifting Trusses
The Huckins has reached "ground zero", as her engines have been removed, all interior components – fuel tanks, controls, cabin soles, drawers, doors, and windows – are out, and with heat gun and sanders, interior paint is stripped. Only a small amount of rotten wood has been discovered. Naval architect Donald Blunt has been hired to determine which engines and jet drives to use, and location of equipment, tanks, and batteries.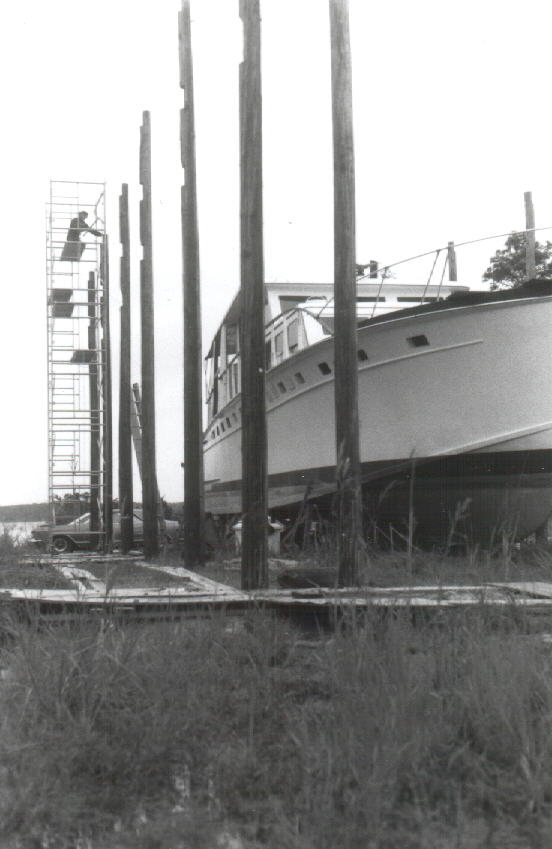 Cherokee at Ground Zero
Lee Norris, Tom Darden, and Jodie Darden have been kicking around interior design ideas with Bryan, who is now sufficiently confused. Bryan is balancing day to day labor activities with cost accounting requirements and a determination of the critical path for the project. Four months (give or take) after the arrival of Cherokee, all efforts are solely concentrated on the boat rather than on preparation. Signing off for now, Barbara "Fish Doctor" Blake