Restoration
August 30, 2001
  
Summer's end is upon us, signalled by the whirling cicadas who've emerged from their seventeen year underground grublife only to mate and die. The Cherokee crew is busy as an octopus with all hands on deck, below deck, and everywhere in between. Speaking of the deck, Jeff Heyland has begun laying new decking in areas that are finished below. He also completed the new bumpers. The guys below finished the grueling task of sanding the microballoon layer on the bottom of the boat.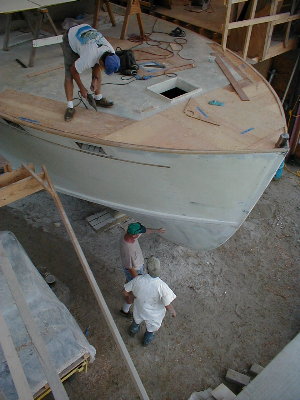 Laying Down the Deck, Inspecting Faring Job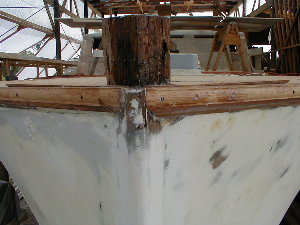 New Bumper
Norm and Jeanette cut and installed interior insulation in the aft cabin. The insulation was fitted behind the wall panels, which were fabricated, sanded, and painted earlier.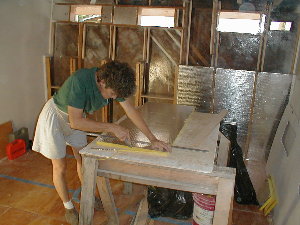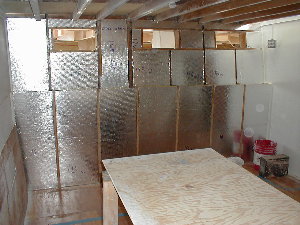 Cutting and Fitting Insulation in Aft Cabin
The waterjets have been installed temporarily – the port jet in the picture below has the reversing bucket in place. Jim and Bill are fitting the engine mounts and marking the bolt pattern for the permanent installation.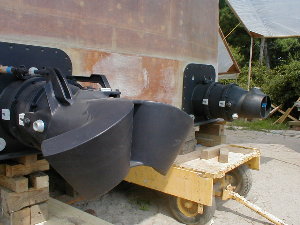 Exterior View of Waterjets
Bill and Jim are shown below holding a mock-up profile of the engine with a new oil pan configuration. The photo on the right shows Bill and Leonard lining the two jets up on parallel center lines and measuring for the exact location of the motor mounts. The round green object is a mock-up of one of the mufflers.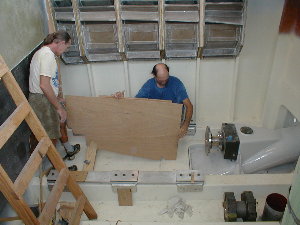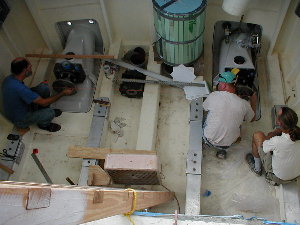 Engine Room Mock-Ups and Fittings
Jim finished sanding the surfaces of the noise-reducing engine intakes. All the baffles are installed. Jim continues to prep for the final covering panel.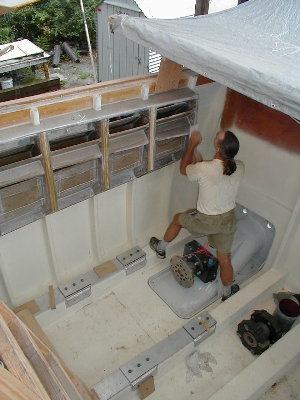 Meet the latest member of the crew – Stewart Wild. He's a first class sander, and boy has he has come to the right place. Here Stewart is shown sanding the V-berth.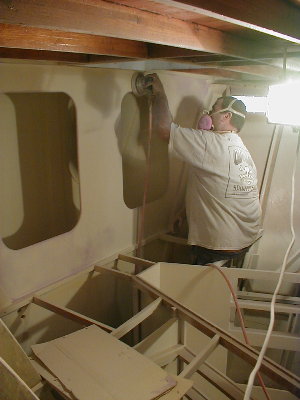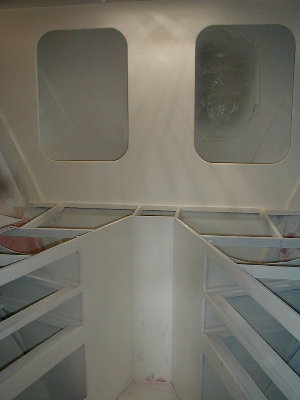 Stewart's Handiwork in the V-Berth
Fish Doc and friends have been taking advantage of the dog days by doing some kayaking. Last week we paddled from Marshallberg to Core Banks in water smooth as jello. We couldn't find Codd's Creek like we had planned, but drifted into a cove full of funky seabirds and flighty fish. As we languished along, wishing we had brought lunch, a large wing sliced up from the water and flapped back. Core Sound was loaded with scallops, and this creature was a big skate enjoying its lunch, sucking the bivalves up like a vacuum cleaner. The menhaden spotter pilots sometimes see giant schools of skates along the beaches, blackening the waters and rolling in the surf. Fishermen always hope scallop season opens before the elasmo-hoovers eat their fill and leave nothing in their wake. Our neighbor Marvin, who clams every day, reports that sure enough, just in the last couple of days the skates have completely wiped out the scallops, leaving "nary a shell." That does not bode well for the short but sometimes lucrative Christmas bay scallop season. Signing off for now, Barbara "Fish Doctor" Blake