Restoration
June 30, 2001
Summer is starting to bake in, and the Cherokee project is heating up as well. All the fans in the world can't cool Bryan's excitement as he begins planning the layout for the forward staterooms and heads. He's a maniac with the blue tape, charting out placement for berths, closets, sinks, toilets, and escape hatches. "I want the layout to be both space efficient and comfortable," he remarked. "The new hatches are for safety, but serve to ventilate the staterooms as well, if someone wants to feel the ocean breeze from below." Bryan does his deep thinking from a chair high in the rafters. Famous designer Howard Chapelle wrote that every boatbuilder should have a "moaning chair" from which "the boat can be easily seen and the builder can sit, smoke, chew, drink, or swear as the moment demands…here he can lay out his work."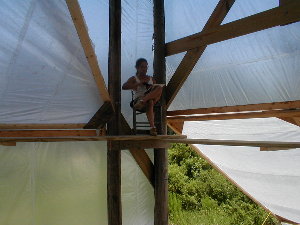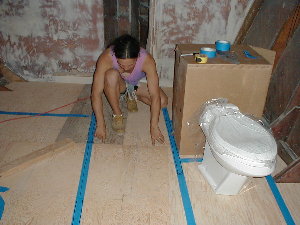 Bryan in his Thinking Chair,
Marking the Stateroom Area Layout
Jeanette can relate to George Clooney who kept repeating, "We're in a tight spot," in Brother Where Art Thou. She has been sanding the hull on the inside of the cabinets, which entailed stuffing herself into a very tight hole for hours at a time. She's happy to report that she has finished this daunting task, and now the entire V-berth is prepped for paint. When complemented on her stamina and perserverance at this job, she explained, "I'm the only one who could fit."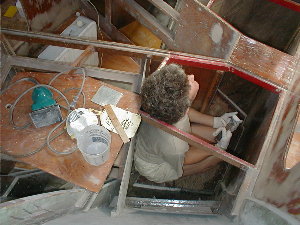 Jeanette Sanding in a Tight Spot
The men in the white suits and masks are not from the Center for Disease Control, but are Leonard and the New Guys (Bud and Jon). They are undertaking the final faring on the engine room, before it's painted. This involves slathering on faring compound, aka putty, and sanding it slick and straight. Leonard, who has taken to jumping in the creek during lunch break, reports that they have almost completed this stage.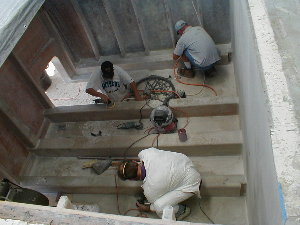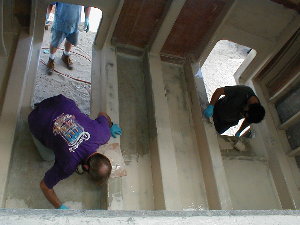 The busiest place at the Cherokee facility these days seems to be the glue station, where epoxy is mixed and faring compound is prepared. Below, Norm is in the process of placing faring compound on the aft bulkhead of the master stateroom. This will then be board-sanded flat and smooth as, well, board-sanded wood.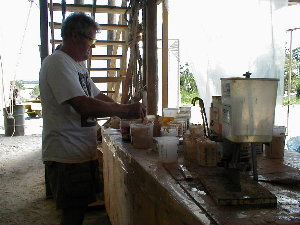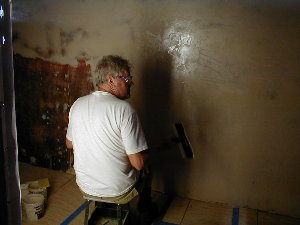 Bill Brown, forever in the septic end of things, has installed the greywater and blackwater tanks. He is also planning the discharge side of the plumbing for sinks and showers, which will be placed beneath the deck toilets.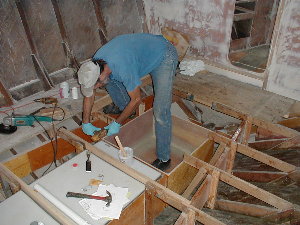 Bill Brown Installing Wastewater Tanks
Wall panels of Cherokee's interior are getting sanded and fared flat while outside of the boat. This facilitates production, resulting in faster work and cooler employees. Other exterior work includes Jeff Heyland's bumper replacement.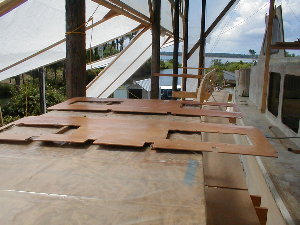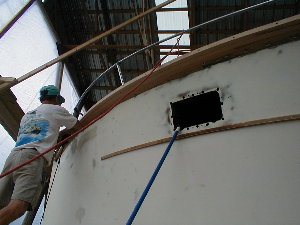 Fared Wall Panels, New Bumpers on Forward Starboard Side
Jim, deep in the interior, is making a perimeter for the aft guestroom floor hatch, which will allow access to the plumbing and air conditioning tubing running from the compressors back into the engine room.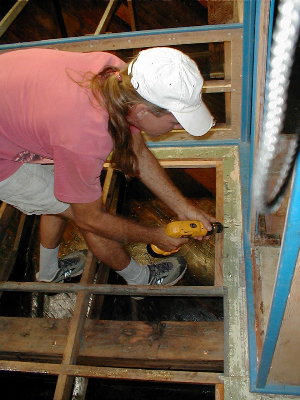 Hatch Perimeter
Lloyd Pigott's father Mack was down at the railway the other evening with his dog Zipper. Bryan, after moving to Gloucester from Harkers Island, worked with Mack years ago when Lloyd was still in diapers. Lloyd is named after Mack's father, who built the railway in the 1960s. Although smaller than the now defunct M.W. Willis' boatyard and railway of Marshallberg, Straits Railway has stayed busy and served the local fishermen continuously for almost fifty years. Gloucester was named by a Pigott – Eloise Pigott's father-in-law Joseph Pigott was a captain who ran schooners from the West Indies to New England. He wanted his community (then considered part of Straits) to have a post office, but couldn't petition for one until the village had a name. He always liked Gloucester, Massachusetts, and the rest is history. And that's just a small part of the Pigott legacy in this shady corner of Down East. Signing off for now, Barbara "Fish Doctor" Blake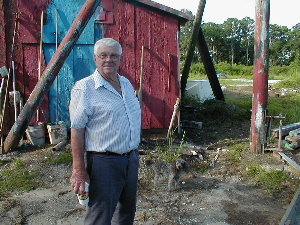 Mack Pigott and Zipper