Restoration
June 21, 2002
The first day of summer brought cool breezes and the fourth straight day of rain at the formerly parched and thirsty Cherokee site. Leonard has finished up the sea chest after a lot of drilling, glassing and sanding. The seacocks for the raw water intakes are installed in the sea chest, along with the strainers and the suction hose to the engine's pump. The rest of the muffler and exhaust system is now being completed.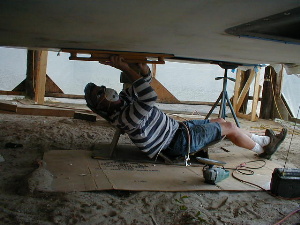 Leonard Board Sanding Sea Chest Area
The anchor windlass has been installed in the rope locker. Below left is the windlass shown with up and down foot switch. Right is a view from the rope locker looking up.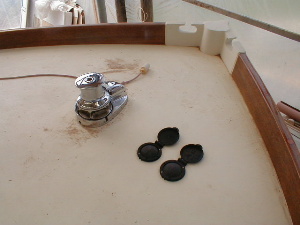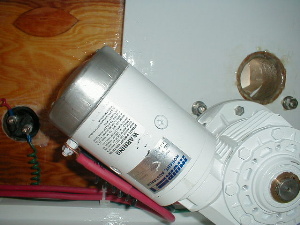 Anchor Windlass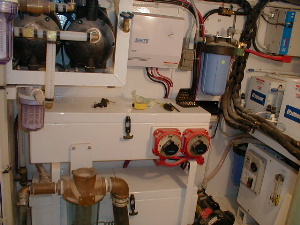 Finished Equipment Room!!
The interior work rolls along, with Kerry, Jeanette, Jeff and Norm fitting mahogany and varnishing paneling and trim. The trim will receive a total of six coats of varnish. The vanities gets increasingly vain with a marvelous varnish glow. Jeanette is shown below working on her cabinet door project.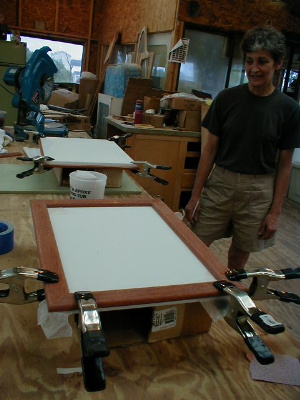 Cabinet Doors
Bill has managed to work on the hardtop between squalls, and is shown below checking for low spots or "indexing". Considerable effort has been taken on the underside of the pilot house roof to insure that it is fair, since this area will be highly visible. Jeff fitted sashes into the windshield, and is now working on the curved entry hatch from the pilot house to the galley, as well as the entry to the forward hallway and the pilot house wheel bench. He and Norm have also installed the rub rail on the aft quarters.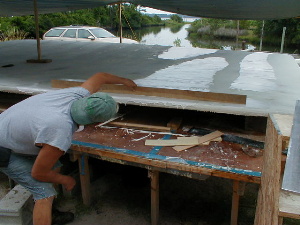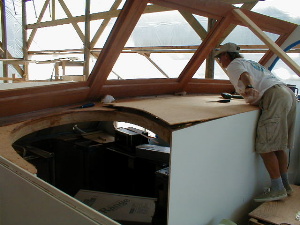 Hard Top Indexing and Pilot House Wheel Bench Placement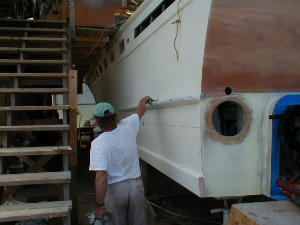 Rub Rail
Work in the galley has commenced – our friend Wayne is shown below situating the microwave over the oven with the help of Steve. Bryan can now get an idea what this wall will look like when completed. Since there are no studwalls in a boat, cabinetry has to hide wiring, ductwork, plumbing, sea-mouse condos and many other things. The electrical panel is located directly behind this galley wall, and some of the wire will enter these cabinets and be dispersed throughout the boat.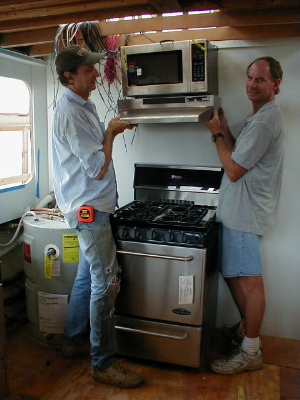 Look Ma, Microwave!
Last year's "Summer of the Shark Attacks" has turned into this year's "Summer of the Shark Arguments" as experts, environmentalists and fishermen take issue with the jaws controversy. Are sharks in danger and in need of protection from humans, or is it the other way around? Have the number of attacks increased or not? "The real story is not shark bites man, but man bites shark," says George Burgess, an advocate of shark protection. Burgess, keeper of the International Shark File, finds the number of recent attacks in U.S. waters unremarkable when put in context of worldwide averages. But closer to home, according to Sean Paige, it's a different story – the lion's share of unfriendly encounters between beachgoers and sharks have occurred in Florida waters, where attacks have more than doubled since the early 1990s. "National Marine Fisheries Service's shark stock rebuilding program, Florida's ban on commercial shark fishing, and the net ban which led to exploding bait fish populations may have inadvertently created a shark sanctuary," Paige suggests. Meanwhile, the media feeding frenzy goes on, with articles like "Will more attacks occur?", "Whose fault is it?" and "When bad sharks attack good people". Signing off for now, Barbara "Fish Doctor" Blake