Restoration
June 16, 2003
  
As June barrels by at record speed, and the June 30th launching "start" date looms on the horizon, the arrival of summer humidity makes it seem like the whole world is holding its breath in anticipation. Bryan took a saw to the beautiful mahogany transom, making way for the access door to the swimming platform. Dogs will be welcomed to use this door too, so we asked Casey to model it below for the reasonable fee of one dog biscuit.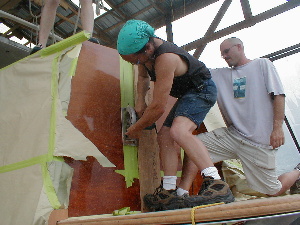 Bryan Sawing Transom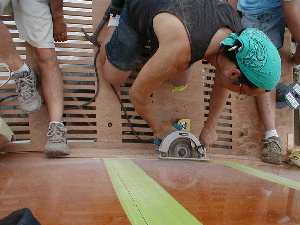 View from Above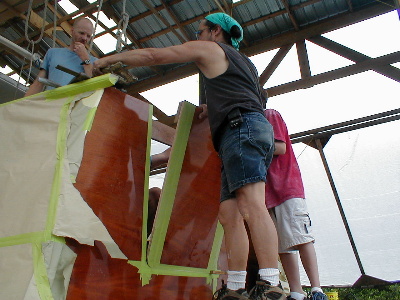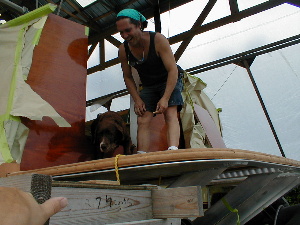 Hole in Boat, Casey Trying Out the Door
Chris is shown below finishing up the framing against the transom. He then placed the 3/8 marine plywood onto the aluminum hatch frames and has glued down the plywood perimeter of the cockpit. The cockpit sole will have four hatches for easy engine access – one over each engine, one over the generator, and a personnel hatch. The plywood subdeck will be covered in teak decking.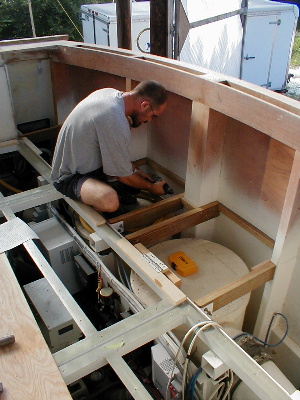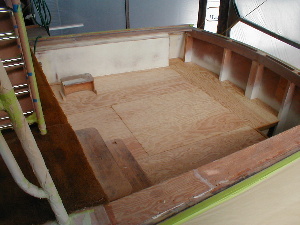 Cockpit Sole Work
Bryan has called out the big guns for the home stretch of the Cherokee. Below Aren Blake is shown sanding the ubiquitous purple off the forward guestroom.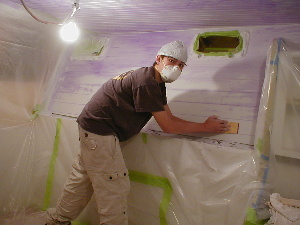 Aren Enjoying Summer Work
The youngest Blake also sanded the helm console that his Dad built. Below right, Bryan is putting it in place at the main pilot station.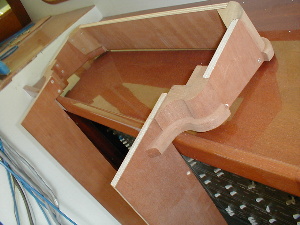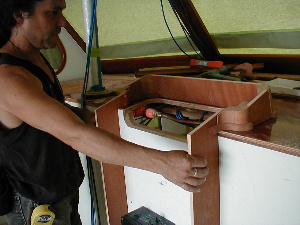 Helm Console
The main entry doors have been built by Tom Parker, and hung in place. They will now be varnished and sent to the glass shop. Below right, the quarter-round base cabinet in the galley has reached its final stage of completion and is waiting outside the galley while the ceiling and walls inside are painted.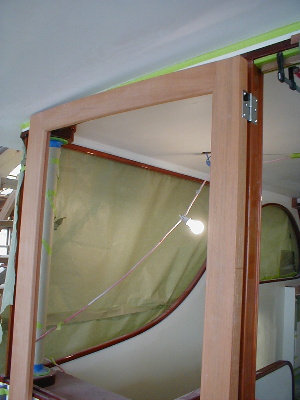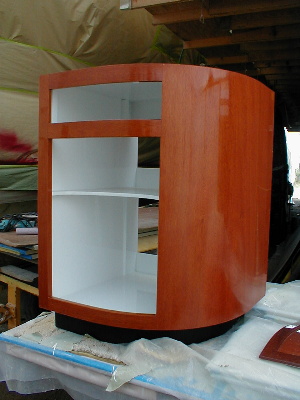 Entry Door, Base Cabinet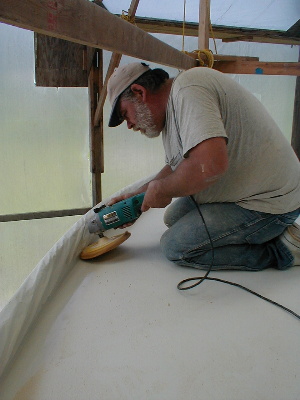 Painter Billy Polishing Toe-Rail Margin Strip
Seen the July issue of National Fisherman? It features an excerpt from FishDoc and friend Susan West's new
book Fish House Opera, published by Mystic Seaport Press. Our book takes a look at fishing community life, expanding on the experiences of some of the folks first introduced right here on the Cherokee site. Susan lives on Hatteras Island with her fisher-husband Rob West, and when she's not working at the Avon post office she's writing columns about fisheries management and keeping active in fish politics. "The Governor called me at the post office one day to ask if I'd serve on the state's Marine Fisheries Commission," she remembers with a shake of her head. "It was so strange, because I had to cradle the phone to my ear while selling stamps to customers. And the thing was, I had to tell him no, I was too busy, but maybe I could serve in the future." Well, the governor had to wait, but the villagers got their mail on time, and these days not only buy stamps but occasionally give Susan a critique of our book! Signing off for now, Barbara "Fish Doctor" Blake