Restoration
April 21, 2003
 Out with the Carpenter bees, in with the May flies – it's late April and the Cherokee site is high, dry, and busy. Norm and Jeanette have been fitting the sliding windows in the galley. The quarter-inch tempered clear glass windows were built by Freeman Marine in Oregon.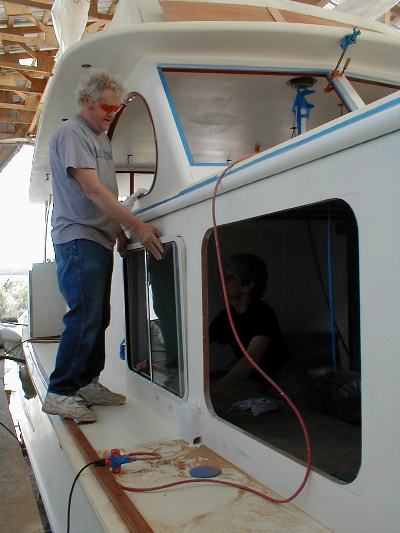 Norm fitting Galley Window
Chris Hunt has made many shapes of ceiling trim for showers and bathrooms. Bill Davis has been varnishing doors, and he and Kerry are polishing up the pieces.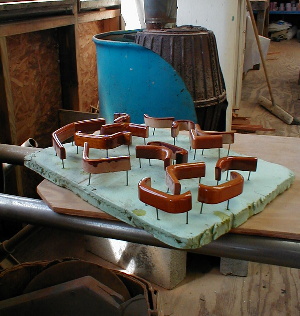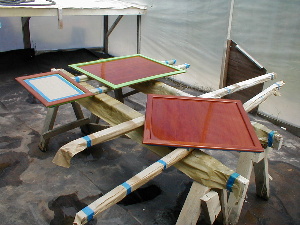 Varnish Work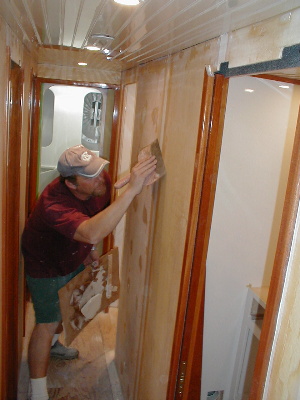 Kerry Faring the Hallway
Kerry is shown above faring the hallway. Below left, welder Tom G. is fitting the swim platform brackets. To the right is good old Leonard, at the stern again drilling bolt holes. The whole platform and supports will be removed and transported to the welders for edge-band reinforcement.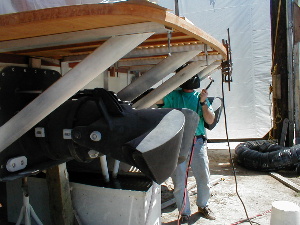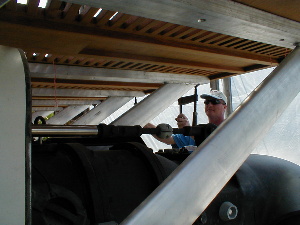 Aluminum Swim Platform Brackets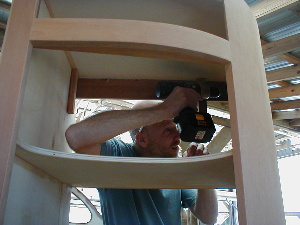 Tom Building a Cabinet
Tom Parker is building a cabinet for the galley. Will it hold spaghetti-o's, pots and pans, or Tupperware? One can only guess! Chris Hunt has been placing ceiling trim in rooms that have their final coat of paint. Below is some of his handywork in the aft guestroom shower.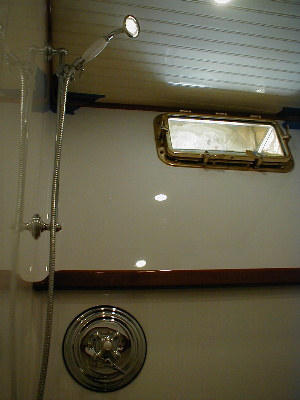 Trimmed-Out Shower
Cherokee isn't the only restoration going on in Gloucester. Lloyd Pigott just launched Virginia, a round-stern Harkers Island work boat that he's been repairing for nine months. "I put a new cabin on her, framing, decks, and bumpers. We replaced seven bottom frames, built new engine beds, and stringers. I'd say she was less than half a boat when we started." The vessel will take on a new career as a pleasure boat, purchased by a Greensboro resident with a house in Davis. "When she hit the water she began leaking," Lloyd explained. "I didn't get much sleep the first night. Had two pumps in her and they were pumping about 800 gallons an hour." Two days later the planking was good and swelled and the leaking had subsided. "I still have to build the exhaust system and bed the motor, but she'll be ready to go in two weeks." Lloyd says the boat has been named Virginia for as long as anyone can remember, and the owner is sticking to it. "Just so happens his mother's named Virginia." Wouldn't a Mother's Day delivery be perfect? Signing off for now, Barbara "Fish Doctor" Blake