Restoration
February 28, 2002
"The Cherokee used to thud," reflected Tom Kirmeyer, knocking on the hull, "but now she rings." The mystery is how Tom could hear anything over all the sanding that is going on – board sanding is all the rage at the Cherokee site, as the crew tackles the hull. Jeanette, Bud, Jim, and Stuart are applying elbow grease and working themselves from the starboard to the port side and back again. The hull will then be sprayed with faring compound again, and the sanding process repeated before the big paint job. Meanwhile, Leonard and Bill Davis have finished sanding the deck, which is ready for box placement and teaking. The toe rails and forward deck box are now installed permanently.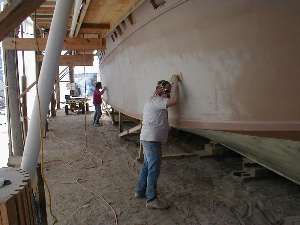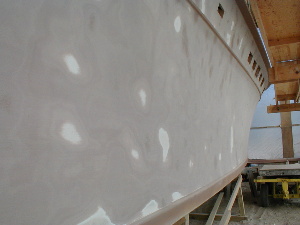 Board Sanding the Hull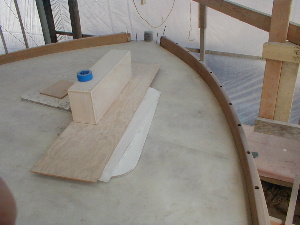 View of Bow Toe Rails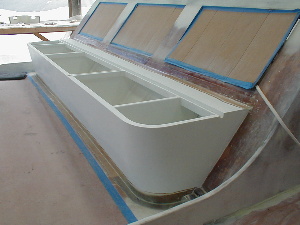 Forward Deck Box
Spotter pilots above must have wondered what strange kind of structure was taking shape in the boat yard below. A garbage scow? A skateboard park? No – the crew has been constructing a jig for the cabin roof. Leonard is shown below faring up beams for the jig, which the crew fit into a framework.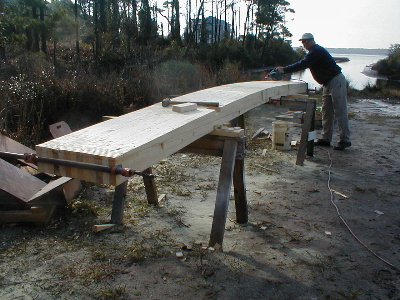 Leonard Faring Beams for Jig
Three pieces of foam will be laminated and fiberglassed to form an ultra-light cabin roof. "It'll be frameless," explained Leonard. "Light, but strong – strong enough for Stuart to jump up and down on it." Kevlar fiberglass will be used in this process. "Then we'll lift it off the jig and install it on the boat."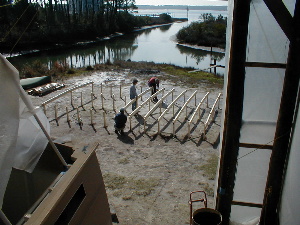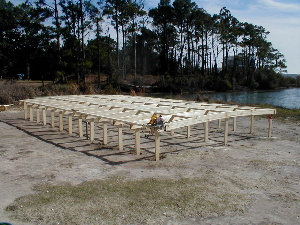 Cabin Roof Mold
Interior work is rolling right along, with Tom Parker building drawers for the stateroom vanities and head cabinets – Stuart and crew just finished painting the drawers. Tom Kirmeyer continues to making adjustments in the equipment room, and Norm is sanding the steps to the master stateroom and guestroom area in preparation of…you guessed it – paint.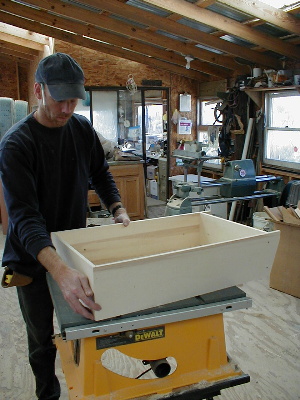 Tom's Drawer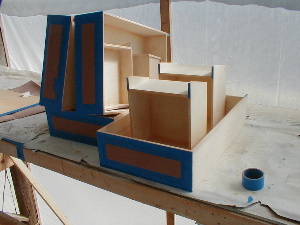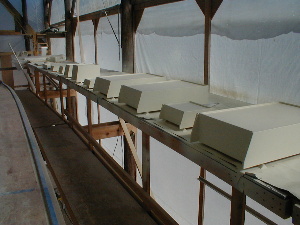 Pretty Drawers in Paint Process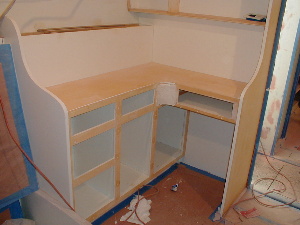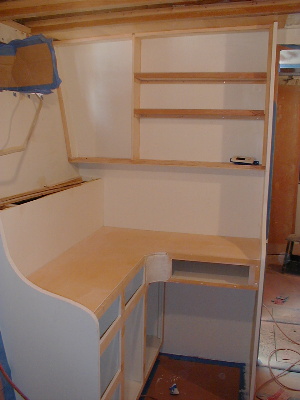 Two Views of the Master Stateroom Vanity
Bill Brown is excited about the engine lube-oil drain adaptors that he designed and Fred Lindow manufactured. The tight clearance in the engine room required this customized work. "Cool, aren't they?" he says, placing them on a display board befitting the shopping channel. The drain adapters will be used for the 100-hour maintenance oil changes. Bill has also been testing the acoustics of the vessel, producing 54 hertz soundwaves from the engine room that put tiny ripples in everyone's coffee.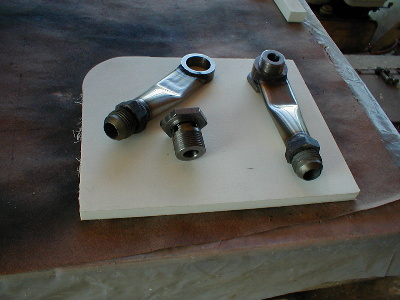 Astonishing Oil Adaptors
One of the newest businesses in the Gloucester/Straits area is Ganey Funeral Home, which is located in the former Down East Auto Parts store and garage on Harkers Island Road. This is the only undertaking service east of Morehead City, and owners Michael and Dee Ganey report that business is okay. "We moved from Florida for a slower-paced, tight knit community," said Dee. "We'd rather make less money and have a relaxed lifestyle." The couple approaches the business of death in a straight-forward manner, depicting a horse-drawn hearse on their business card and hanging a giant scythe on their office wall. Proudly on display is Gloucester resident George Long's homemade cedar coffin. "He's worked with wood all his life," explained Dee. "And didn't want a fancy, plush coffin. He built his own and asked to keep it here so we said, why not?" Looks like the Ganey's are fitting in just fine…Signing off for now, Barbara "Fish Doctor" Blake