Restoration
February 12, 2003
  
February 12, 2003 A late January snow blanketed the coast and ice chunks flowed out of creeks and cuts into the sound. A bundled up crew warmed up Cherokee with lots of trim and varnish, a tank of fuel, and new flybridge walls. Below, Leonard is faring the line of the flying bridge wings with battens and lead weights atop Divinicell panels.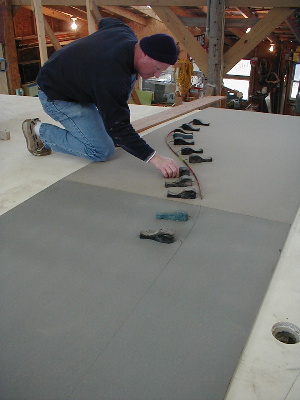 Leonard Faring the Fly Bridge Wings
Once the sides were cut, Leonard and Chris got busy gluing together the two half-inch panels, fiberglassing, microballooning, and board sanding them flat. Note signs of February to the right – chopped wood for the stoves, and Mardi Gras signs ready to post.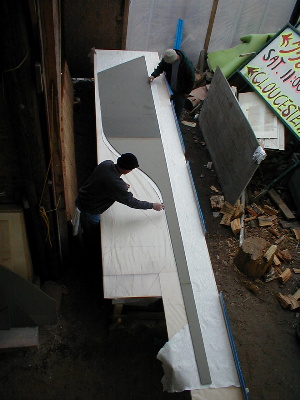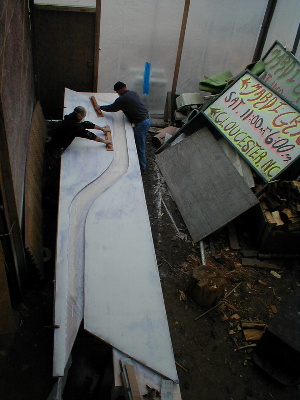 Fly Bridge Wing Work
Other "up-top" action includes a hole cut into the hardtop, making it much less painful when you get to the top of the stairs. Eastern Oil and Tire brought a tanker out and put 800 gallons in the Cherokee in anticipation of the engine getting cranked.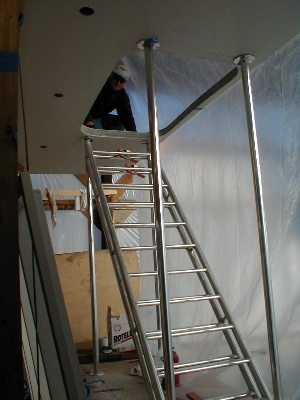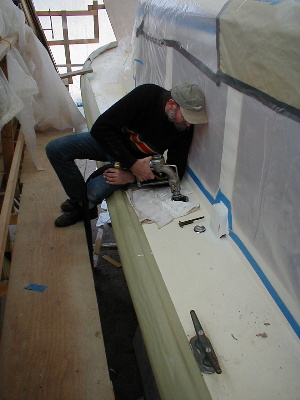 Fly Bridge Wing Work, Fueling Up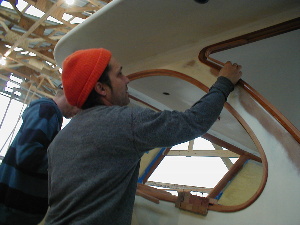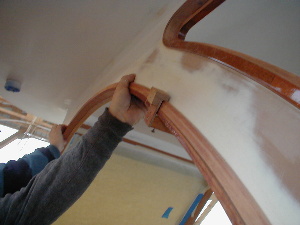 Window Trim
Tom Parker is working on mahogany trim for the pilot house sides and rear windows. Above, Bryan checks the perfect fit of the outer window keepers that Tom has built. These keepers will hold the glass in place. To the right Bryan is inspecting the bent pieces with "Tom the Tool Man's" specialized wood clamps. The window trim is completed in the pilot house, shown below, softening the metalic look of the support poles. The next step will be preparing luan 1/4 inch plywood patterns for the glass cutter.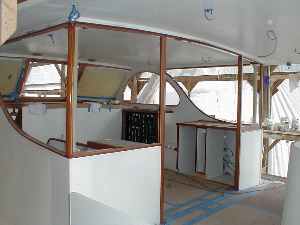 Pilot House Trim
All systems are not "go" yet, but they're getting there! The watermaker, as illustrated below, is working swimmingly. What's your preference, hot or cold? It has the ability to make up to 800 gallons of drinking water per day, from city water, well water, salt water – any kind of water! The system uses reverse osmosis (a mini R.O. plant), forcing water through a membrane so fine that only particles the size of water molecules can get through.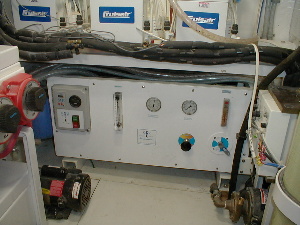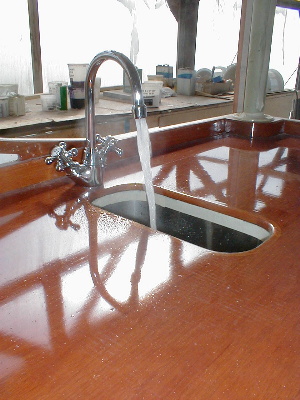 Making Water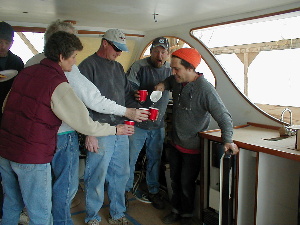 Cary Excited about R.O. Ice!
FishDoc had a chat with Howard Gaskill of Cedar Island about a specialty market he's participating in – sushi flounder. "I get southern flounder from my pound net and hold them in a pond before they can migrate out to the ocean. They get stressed at first but then settle right down. I pump in water from the sound and feed them minnows. The trick is to keep them alive and pretty until the December sushi market." Gaskill said that the primary buyers used to be from Japan, until the Japanese economy declined. Now they sell to domestic buyers in areas with significant Asian populations such as Washington, D.C. and New York. "If the flounder stays stress free, he'll be white on the flip side, but if he's stressed he turns red with blood and the buyers don't want him. This past winter all my fish were nice, and I got a much higher price for the sushi market than I would have for the regular market. All I did was hold the flounder and keep them alive." Gaskill supposes that specialty markets will be the only way fishermen can survive an evolving economy of cheap imports and low prices. "Everything's changing for the commercial man," he said. "And the generation that eats fish around here is dying out. The younger crowd don't want to clean fish, they want to buy fast food." Let's hear it for flounder – slow food that's high in flat…Signing off for now, Barbara "Fish Doctor" Blake