Restoration
January 22, 2004
Happy Chinese New Year!
It's the year of the Monkey, and since Cherokee's rebirth is spring of '04, she shares traits with the monkey – agile, quick, and smart. She can get in and out of tight places, and plays well with humans. Keith Rittmaster, head of the NC Maritime Museum's Cape Lookout Studies Program, snapped this shot of Cherokee off the Cape New Year's week.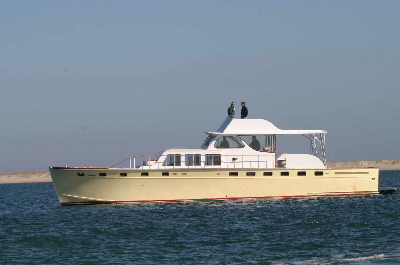 Huckins Sighting off Cape Lookout
Meanwhile, back at the berth, Bryan and Chris laid the galley flooring and trim. Below left they're placing the last bit of trim, and right shows the completed floor. The empty area to the right is where the refrigerators go.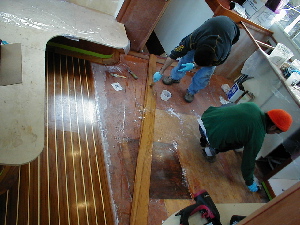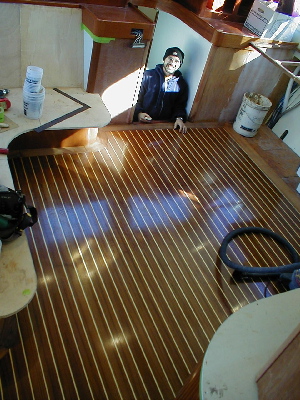 Laying Down the Groove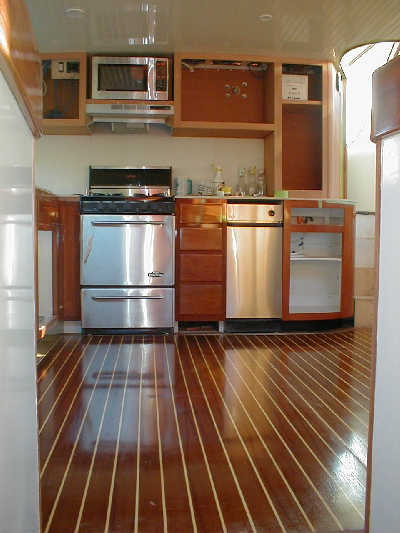 Galley Gleaming
The Varnish Vixens are working their way through the galley trim, sanding and sanding in preparation for many coats of varnish. Sharon and Caroline are padding about in socks, keeping everything scratch free and pretty. Below right, Carolyn's mother Margaret is in the facility sanding a galley cabinet. Speaking of the facility, it's no longer a gaping void since the Cherokee launch. Lloyd Pigott had George lift the CBCII (Core Banks Club), an old ferry boat, into the shed whereupon it'll get converted into a houseboat (see bottom photo).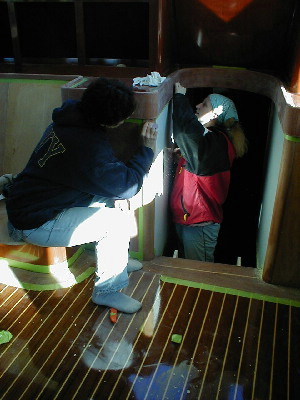 Sanding, sanding, sanding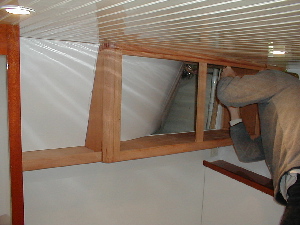 Tom Parker Fitting Stateroom Shelf
Tom Parker, above, is building a storage cabinet in the forward stateroom over the bunk. Bryan and Chris glued the teak on the first hatch of the cockpit, and attached the hinge. They and Leonard are shown below fitting it in place.
Cockpit Hatch Placed over Generator
Chris and Bryan started the cockpit stairs, designed to be used to enter the cockpit from the aft-deck or the dock. Once completed, the stairs will have teak treads and white risers. Below Bryan and son James check it out.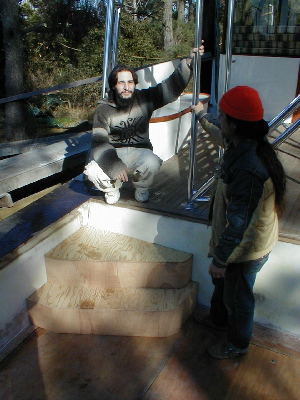 Behold the dogfish – neither a dog nor a true fish, but a kind of mini-shark. The spiny dogfish, or Squalus acanthias, is the most abundant shark species, and smallest in size. It only grows to about 35 inches, and tends to travel in schools segregated by sex and age. Commercial fishermen considered dogfish "trash" until the little sharks got popular in Europe for fish and chips. National Marine Fisheries Service and environmental groups became concerned about harvest increases, so restrictions took effect in 2000, cutting the take from about 40 million pounds per year to four million pounds. North Carolina fishermen, who had been the second largest harvestor of dogfish, were cut out from the fishery entirely because Massachusetts caught the entire year's quota before the dogfish appeared in NC waters. Then in 2003 the Atlantic States Marine Fisheries Commission divided the quota between the north and the south, giving Tarheel fishermen a shot at 2 million pounds. Trouble was, the dividing line was established below Massachusettes, making the "southern" region Rhode Island to Florida! And setting the quota so low increased the amount of discarded dogfish, caught asbycatch to gray trout, croaker, etc. Last year scientists calculated that in addition to the four million pounds of dogfish that were landed, a whopping 19 million pounds were tossed overboard, about half of which were dead! "Wasting fish is not conservation," said fish dealer Willie Etheridge of Wanchese. "Increase the quota so we can at least utilize our bycatch!" Fishermen report a burgeoning population of dogfish since the quota was set, making it hard to avoid the little sharks. Scientists, however, say stocks aren't projected to recover for another 23 years. Fishermen fear that the discard problem will be addressed not by allowing them to keep dead dogfish, but by shutting down all the other fisheries that result in dogfish bycatch. "Meanwhile we're losing our industry's chance to harvest these fish to Canada," said NC fish processor and fisheries commissioner Tilman Gray. "It makes no sense." The latest twist in the dogfish saga is a permit fiasco. Tarheel fishermen can land 2,000 pounds of dogfish per day in North Carolina during the winter season only by cancelling their federal permit which limits them to 300 pounds. After the season, NMFS invites them to reapply for their federal permit. "North Carolina has to step up and do something!" said Gray. Either fight for equity and non-waste of the resource, or issue straight-jackets to the fishermen, because dogfish management is driving them crazy! Signing off for now, Barbara "Fish Doctor" Blake